UV-C Technology
UV-C disinfection technology is a proven disinfectant against harmful viruses, bacteria, molds and spore. Ecosparks Air Disinfection emits ultraviolet wavelength at 280nm, which invisible to human eyes and has the power and also one of the most effective solutions capable of killing pathogens by destroying the DNA and RNA of any exposed microorganisms.
Effectiveness In Improving Air Quality With Air Disinfection Solution
Ecosparks's innovative patented Air Disinfection Solution utilizes UV-C energy as disinfection tool against bacteria, viruses and effective ways to combat coronavirus. Air disinfection can be used to disinfect air, by continuously disinfecting the air circulates throughout the space with 99.99% effectiveness. It is safe to turn on the air disinfection even while the room is occupied.
High precision of UV-C energy barrel projects radiant energy across upper room to create a 'Concentrated Germicidal Zone
UV-C deactivates bacteria and viruses at the upper room.
Bacteria and viruses are carried into the UV-C field by convection, naturally or mechanical ventilation.
The air in the room is continuously being disinfected.
Air disinfection can be safely turned on when people are around.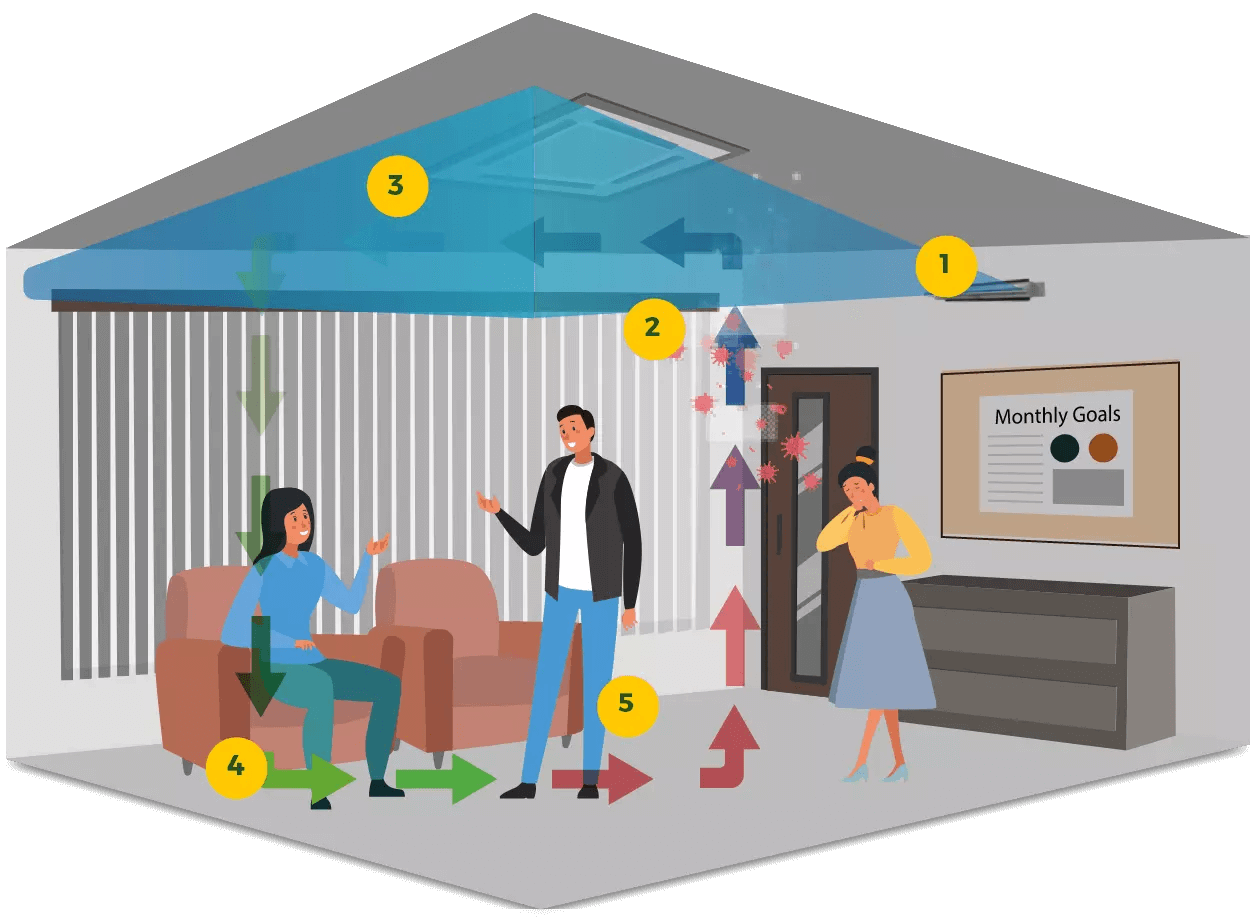 The World's Disinfection Solution
Bacteria & Virus Elimination
LED UVGI ( UV-C ) Air Disinfection
Optimal Germicidal Range
UV-C is part of the invisible ultraviolet spectrum with wavelengths in the range of 200 – 280 nanometers (nm). UV-C is the wavelength that is proven to be most effective for germicidal disinfection, with peak performance at 280 nm.

Ecosparks UVGI (UV-C LED) Air Disinfection Solution
Designed and developed in-house.
Patented Solution.

Deactivates & Kills All Pathogens
There are no known microorganisms that are resistant to UV-C
UV-C Energy Breaks DNA & RNA Of Microorganisms
Renders bacteria, viruses, spores and fungi unable to reproduce and infect.
Model Code
EAIRD-UVGI-30-280
Input Voltage
90 To 305VAC
Irradiance
108µW/cm 2 @ 1m
Operating Temp.
10°C To 40°C
Dimension (Mm)
536(L) * 64(H) * 165(W)
Housing Material
Aluminium
*All specification and technical parameters of the products provided in this brochure are for reference only. Content will be renewed periodically. For detail, please contact our sales teams.
**Based on 8-hours of daily operation
With Us, Cleaner Indoor Air Is Possible. Ecosparks UV-C LED Air Disinfection Solution provides you with cleaner indoor air. It ha...
Ecosparks' CEO, Cliff Tong, shared how UV-C disinfection technology can help with businesses during the pandemic, and potentially becom...